English:
SpeedMeter is designed for all those who want to measure their performance during a movement by car, motorcycle, ski or boat.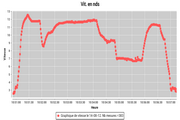 SpeedMeter
is a software for telephone and tablet working under Android.
By using the GPS of the telephone, it calculates your immediate speed and shows it on main screen. Then all the measures can be shown on a temporal graph to study in detail the speed according to time (acceleration). Graphs can be saved or exported as an image to send them as attachments by SMS, email or social networks. You also can export the measures towards an Excel file for exploitation on a PC for example.
The export of graphs towards social networks as facebook, Twitter, Google + and sending MMS is also possible.
Use is very simple and this software can allow to compare your speeds to those of your friends or to yours to improve your performances.
The uses are numerous, speed at the bottom of ski run, performance of motorcycle, performance to go out the water for a motorboat and time to reach the speed max...
The precision of the system depends on the material precision of the GPS and on the conditions of satellite reception.
Générales Informations :
SpeedMeter is developed in France.
SpeedMeter is delivered without guarantee. All and use are under the full responsibility of the user.
The good running of the software bases on the electronic capacities of your telephone or tablet (precision of the GPS).
The developer of this software is not responsible for any damages which could arise during a use of this software.
You must have a GPS embedded in your telephone for enjoy all the features of this software.